JNAFA University Certified


Advanced UX Certification Program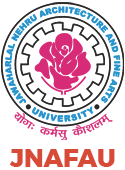 Learn UX on Weekends from Industry GURUs,
Get Certified from JNAFA University.

Second Batch starts from OCT 7, 2023,
Registrations are in progress.

25 Seats Left

GET TRAINED BY INDUSTRY GURUS.
GET CERTIFIED BY JNAFA University.
(Jawaharlal Nehru Architecture & Fine Arts University)

Design Guru in association with JNAFAU introducing first of its kind Advanced UX Certification Program for students and working professions.

Total Seats: 50
Duration: 3 Months

Start Date: 7 Oct, 2023
Classes: On Weekends (Hybrid Mode)
Saturday - 7.30 pm - 10 pm (Online)
Sunday - 10.00 am - 1 pm (Offline - JNAFAU Campus, Masab Tank, Hyderabad, 1-1, )
Group Discussions, Activities, Do It and Experience Approach)

QUALITY, AFFORDABLE UX TRAININGS
by Industry GURUs, HFI-CUAs, Ph.Ds.
Workshops from the Gurus of NID/IIT/JNAFAU.